Meet Team Factor4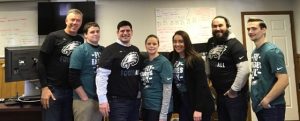 The Factor4 team is an exceptional group of gift card and loyalty experts dedicated to exceeding the needs of their clientele of merchants, ISOs and partners. Here is what each team member does day-to-day and why each one believes Factor4 surpasses the competition.
Dan Battista, CEO
Dan has built the team and spearheaded Factor4's efforts to dominate the gift card and loyalty market. Dan said: "Our team strives to exceed our clients' expectations and we do the manual labor for our partners to set up and run successful gift card and loyalty programs. We offer the full range of options including in-store, online, physical cards and e-cards. We do it better than the competition because the focus of our business is to exceed expectations and make it easy for our clients." Dan boasts over 10 years of expertise as a C-level executive with top gift card and loyalty companies.
Drew Davis, Vice President of Sales
Drew oversees US sales and is leading Factor4's charge into the Canadian and UK markets. He believes several factors set the company apart in the market. Per Drew: "Factor4 doesn't do merchant processing; therefore, we never compete with our ISO partners. That creates a strong level of trust. Our biggest selling feature is our extensive integrations. We were first to market with Poynt and one of the first to integrate with Clover." Drew has a strong sales background with emphasis on franchises and credit card processing which enables him to understand the needs of ISOs, franchisees and multi-location customers.
Aimee DuCasse, Marketing Director
Aimee oversees marketing and manages Factor4's social media and public relations efforts. Aimee remarked: "One of the keys to success in marketing is product and Factor4 has that covered. We stock over 250K cards and 100K card holders. We provide all of the marketing tools needed to run successful gift and loyalty programs." Aimee applies her 10 years of gift card and loyalty marketing expertise to help Factor4 gain market share.
Mike Pettit, Director of Operations
Mike oversees operations ranging from card production to sales and customer support.  Mike said: "Factor4 has the fastest response rate in the industry. We immediately respond to all inquiries and we quickly deliver our products to clients. Our quick ship program enables us to print and ship custom cards within 24 hours of order which is especially popular during the holiday season. We don't like to say no to customers so we strive to meet and exceed their needs."
Patty Stevenson, Director of Administration
Patty manages the accounts payable/receivable process for Factor4. Patty remarked: "Factor4's reporting system sets us apart from the competition. It enables us to push and pull gift card funds for franchises and multi-location merchants seamlessly and effortlessly resulting in merchants receiving funds quickly. We do the accounting work for these clients." Patty has over 7 years of experience working for top gift card and loyalty companies.
Rob Fry, Art Director
Rob oversees the artwork portal for card creation, manages the training resources including Factor4's YouTube channel of product tutorials, and the white label mobile app creation process. According to Rob: "Our close knit team is unique in the industry. We really work well together to provide a first class experience for merchants and ISOs. We are cross trained and help other team members so we can turn around projects quickly and correctly."
Matt Reichert, Support Coordinator
Matt handles Factor4's customer support including answering phone calls and emails. He also prints our quick ship cards. Matt stated: "Factor4's customer support is the best in the business. We immediately respond to emails and answer our phones. If a call happens to go to voice mail, we return it within 10 to 20 minutes. This includes after hours, too. We monitor our phones and emails 24/7 and respond just as promptly to after hours inquiries."
As you can see, the Factor4 team has all of the bases covered resulting in a home run experience for their clientele. Based on their Philadelphia Eagles attire, perhaps, touchdown is a more appropriate term to describe the results they bring to clients.
Follow us on Facebook, Twitter & LinkedIn for Gift & Loyalty tips. Visit: www.factor4gift.com to learn more.