Sell More Gift Cards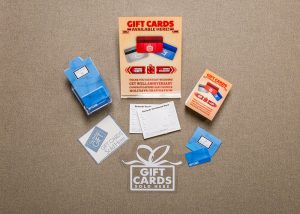 We are excited to announce the launch of our web store which is designed to help merchants Sell More Gift Cards! Hence the store's web address is http://sellmoregiftcards.com.
Our web store features a variety of gift card marketing materials ranging from presenters, envelopes and gift bags to point of purchase signage and displays. We also offer a large selection of standard gift cards as well as custom gift cards, all with quick delivery.
We are celebrating the web store launch with a special offer- Save $20 on a $100 purchase. Use this offer to stock up on supplies and give customers options for dressing up gift cards. Did you know that 84% of consumers would purchase a gift card if it came with free packaging and 62% are more likely to purchase a gift card if multiple packaging options are available?
Use Offer Code LAUNCH to receive $20 off and you'll sell more gift cards!
Marketing Tip: Give customers the choice of a standard gift card holder for free or premium packaging for a small fee to increase your revenue with each gift card sale. Ex. Offer Gift Bags for $1.99/each. (We sell them for $0.25 each.)
Click here to visit our web store: http://sellmoregiftcards.com
Follow us on Facebook, Twitter & LinkedIn for Gift & Loyalty tips. Visit: www.factor4gift.com to learn more.