It's Easy To Maximize Holiday Gift Card Sales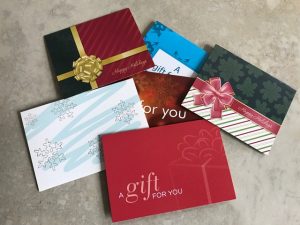 Black Friday is next week signaling the start of the Holiday Season! This is the time when merchants make the most money from Gift Card sales. Gift Cards have been the most requested holiday gift for nine years running. They have such high perceived value that nearly half of consumers would prefer a $25 Gift Card to a gift worth $50. Combine this with the fact that 65% of Gift Card recipients spend an extra 38% above the value of the Gift Card and it represents a potential windfall of revenue for merchants as well as the ISOs that provide merchants with Gift Card programs. A little bit of preparation will result in a significant increase in Gift Card sales.
There is still time to get ready for the Holiday Gift Card sales craze! Here's how:
Stock up on Gift Cards & Gift Card Holders
Promote Gift Card Program In-Store
Create Holiday Gift Card Promotions
Promote Gift Card Promotions on Social Media & via Email
Offer Specialty Gift Card Packaging & Sell it for an Additional Fee
Factor4 has an extensive assortment of predesigned Holiday Gift Cards and Gift Card Holders. We also produce custom Gift Cards and Holders that can be shipped in as little as 1 business day. We offer affordable pricing for merchants and partner with ISOs to provide their merchants with all the tools needed to maximize Holiday Gift Card sales. Check out our selection at: http://sellmoregiftcards.com. Use Offer Code XMAS to Save $10 on a minimum purchase of $30.
Contact us at sales@factor4gift.com or 484-471-3963 to learn how to implement easy Holiday Gift Card promotions at your business or to learn more about our ISO Gift Card Partnership Program.
Follow us on Facebook, Twitter & LinkedIn for Gift & Loyalty tips. Visit: www.factor4gift.com to learn more.