What is your Gift Card Portfolio's Value?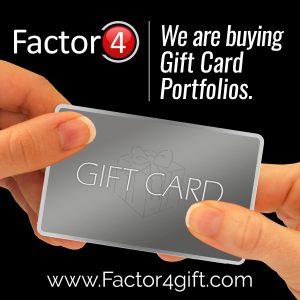 You probably don't realize it but your gift card portfolio has value and there are ways to increase the value or cash in on it.
Why Sell Now
Right now, gift card portfolios are being sold at historic highs. If you don't offer the newest technology and integrations, you will lose customers to other providers who do offer these features. Technology and integrations cost money and not all providers are able or want to make the investment into their gift card portfolios.
The benefits of selling:
Infuse your business with cash.
Use the proceeds to grow your merchant accounts.
Get money for customers that you would otherwise lose to attrition.
Assure your merchants are provided with a great gift card solution.
How to Add Value
If you are looking to grow your gift card portfolio there are many ways to do it and we can help:
Offer Loyalty programs – A successful loyalty program will more than double the value of a merchant account and create a 99% retention rate, eliminating attrition.
Own your gift card portfolio – Ownership can provide incremental value for your portfolio. If you don't own it, we can show you how to own it.
Evaluate the fees being charged- What are your monthly and transaction fees? What are you giving away for free?
Add additional products-Increase revenue with card re-orders, gift card holders, virtual gift cards, gift card mobile apps.
Why Factor4
We can help you make the best decision for your specific gift card portfolio. Factor4 offers unique opportunities for providers looking to sell their portfolios as well as those looking to grow them. We can also provide you with a valuation of your gift card portfolio. Contact our CEO, Dan Battista, at dan@factor4gift.com or 484-471-3963 to learn how you can get the maximum value out of your gift card portfolio.
Follow us on Facebook, Twitter & LinkedIn for Gift & Loyalty tips. Visit: www.factor4gift.com to learn more.