Factor4's Gift & Loyalty Outlook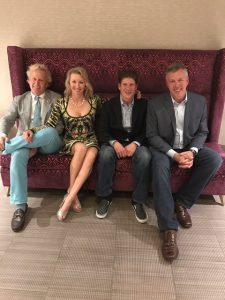 The partners of Factor4 were together last week at the ETA TRANSACT conference. We sat down and talked about the major trends and outlook in the Gift and Loyalty arena. Here are excerpts of what our executive team had to say:
Dan Battista: "Gift card and loyalty programs will continue to be used to reduce attrition. The more value added solutions ISOs provide to merchants, the stickier they become and the less likely they will be to switch to another provider. The same logic applies to a merchant's customers because the more value they see in the loyalty program and gift card promotions, the more likely they will continue to frequent a business."
Craig Davis: "Mobile is the direction in which gift and loyalty is moving. Consumers want to be able to buy, store and redeem gift cards and loyalty points right on their mobile devices. Factor4 has recently launched an egift card product as well as mobile apps enabling gift and loyalty transactions to be processed on all Apple and Android products. Our goal is to stay at the forefront of mobile technology."
Jim Battista: "Integrated payments is the buzz phrase in the payments industry and that applies to gift and loyalty. Merchants want to be able to process gift and loyalty transactions on the same systems that they process payments, make reservations, track inventory, etc. It's becoming more important that gift and loyalty providers become integrated with the top POS and gateway providers. Factor4 boasts industry leading integrations including Clover, POSitouch, Revel, Datacap, 3dcart and we have more integrations on the way."
Aimee DuCasse: "Merchants are getting creative with gift cards and are using them as marketing tools. For example, a gift card with purchase promotion can increase the average sale amount as well as the frequency of purchases. Merchants are using the customer information gathered from loyalty programs to identify their target market, tailor their programs to customers' needs, and attract more customers. Factor4 educates merchants on how to use gift card and loyalty programs to generate more revenue and keep customers coming back."
Dan Battista: "Gift Cards have matured and are no longer just for holidays or specific occasions; people have started buying gift cards for their own use. Merchants are capitalizing on this self-gifting trend and are using it to drive loyalty and reduce processing fees. Self-gifting drives loyalty by impacting customers' purchase behavior. It reduces merchants' processing fees because one transaction on a gift card is less costly than many transactions on a credit card."
To summarize, the trends in gift and loyalty include self-gifting, mobile solutions, integrated payments, and the strategic use of gift and loyalty to reduce attrition, increase revenue, and attract customers. Follow Factor4 on LinkedIn, Twitter and Facebook to stay educated. Contact us to learn how we help ISOs and merchants profit from gift card and loyalty programs.
Follow us on Facebook, Twitter & LinkedIn for Gift & Loyalty tips. Visit: www.factor4gift.com to learn more.