5 Star Rated Mobile Apps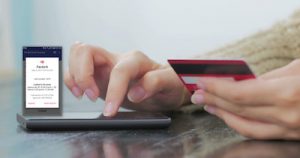 Factor4's Free Mobile Apps enable merchants to process all Gift & Loyalty transactions on all Apple and Android devices. Factor4's apps have earned a 5 star rating from users due to their functionality and ease of use.
Our App Features include:
Free to Download
Custom Barcode Readers
No Internet Connection Required
Promotional Transaction Functionality
We have a White Label Program that allows merchants to have their own branded mobile apps.
Factor4 provides top notch customer support, fast merchant set-up, and free product training.
Click here to learn more or to contact us for a free demo of our mobile apps: https://factor4gift.com/mobile-app/
Follow us on Facebook, Twitter & LinkedIn for Gift & Loyalty tips. Visit: www.factor4gift.com to learn more.