3 Ways To Make Summer Gift Card Sales Sizzle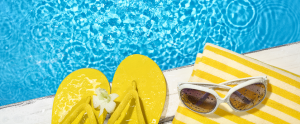 Gift Card sales don't have to slump this summer. Here are 3 easy, inexpensive ways to make sales sizzle!
Have a Mystery Gift Card Drawing
For example: Purchase a $25 gift card (minimum) in August to draw a bonus mystery gift card. Assign various values from $5-$100 to 20 gift cards and put them in a decorative bowl or bag at the register for customers to draw. Make the mystery cards expire by September 21st.
Offer a Gift Card with Purchase
For example: For every $25 spent from August 1st-31st, earn a $5 gift card. Make all earned gift cards redeemable between September 1st-September 21st.
Put Gift Cards on Sale
For example: All gift cards are 20% off in August.
For maximum success, advertise your summer gift card promotion on social media, have signage and gift cards on display at point-of-purchase, and email your customers. If you have a loyalty program, award double points for all gift cards purchased during the promotion.
Check out this great selection of gift card marketing items designed to spur sales: http://sellmoregiftcards.com
Follow us on Facebook, Twitter & LinkedIn for Gift & Loyalty tips. Visit: www.factor4gift.com to learn more.