25 Days To Shatter Holiday Gift Card Sales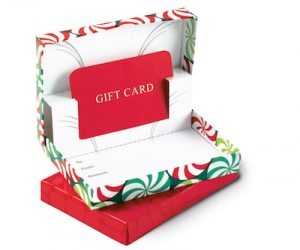 Christmas is 25 days away! There's still time to put in place promotions that will dramatically increase your gift card sales. With our quick turn-around, Factor4 can ship custom gift cards printed with your branding or holiday gift card packaging within 24 hours of purchase so you're ready to sell. Here's how to shatter sales:
Give a Gift Card with the Purchase of a Gift Card
This is a great way to double your sales via gift card purchases. For example, give a free $5 gift card with the purchase of a $25 gift card. Make the free $5 gift cards expire on January 15th. This way you'll bring in additional sales after the holiday which will improve January's numbers. Providing a reward for gift card purchases is a great way to significantly increase gift card sales.
Have a Sale on Gift Cards and Stagger the Percentages
Offer 10% off the purchase of 1 Gift Card. Increase the percentage to 20% off if 2 gift cards are purchased and 30% off if 3 gift cards are purchased. Establish a minimum gift card amount to qualify such as $50. You will gain more sales by increasing the savings for purchasing multiple gift cards. The facts that customers spend more than the value of the gift card and 20% of gift cards are never redeemed (breakage) will offset the discounts given.
Offer Attractive Gift Card Packaging for Free
Make giving gift cards convenient for purchasers by turning them into complete gifts. Provide attractive packaging so that customers don't have to get it themselves. This can be anything from holiday themed gift card holders to decorative boxes or bags. Presentation is everything and that applies to gift cards.
Start Now
Factor4 has an extensive collection of gift card packaging and marketing items available at http://sellmoregiftcards.com. We also have holiday themed gift cards that can be customized with your branding. Check out our selection and use Offer Code SANTA50 to Save 50% on your order. Orders ship within 24 hours.
Contact us at sales@factor4gift.com or 484-471-3963 to learn how to quickly implement revenue generating Holiday Gift Card promotions at your business.
Follow us on Facebook, Twitter & LinkedIn for Gift & Loyalty tips. Visit: www.factor4gift.com to learn more.