Top 5 Trends From TRANSACT 2018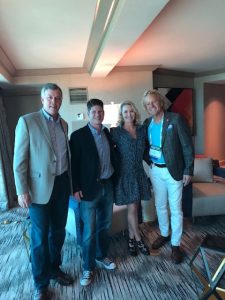 The Factor4 team met with several partners and acquisition candidates at TRANSACT. We would like to share our insight from those meetings. Here are the top 5 trends impacting the gift card and loyalty arena today:
1. Renewed Interest in Gift & Loyalty
As ISOs and merchants look for ways to reduce attrition, there is renewed interest in gift and loyalty. We educate ISOs and merchants on how to use gift card and loyalty programs to increase revenue. By driving revenue, merchants benefit from retaining customers and ISOs benefit from retaining merchants.
2. Market Consolidation
There is a lot of consolidation in the space. It's mainly attributable to the number of small providers who do not want to invest in the number of integrations needed to satisfy the market. Instead, they are opting to cash out and sell to providers who do boast a lot of integrations. Factor4 has implemented many major integrations including Clover, Poynt and iMobile3 with more on the way. As a result, we have seen an increase in interest in our platform. Factor4 is actively buying gift card and loyalty portfolios and providers.
3. Own Your Own Gift Card Portfolio
ISOs are realizing the value in owning their own gift card portfolios. Ownership can provide incremental value for a portfolio. If you don't own your portfolio, we can show you how to do it.
4. Options are Key
There is great demand for gift card options. Consumers want to be able to buy e-cards and plastic cards from merchants' websites. Merchants want a lot of card design options and fast turnaround. As a result, we have increased our in stock cards to 250K and added 50 new pre-designed styles. We have increased our capability for turning cards around within 24 hours of order.  We are also testing a personalized fulfillment service where we fulfill website gift card orders for merchants. We load the gift cards for any value, hand write cards with personalized messages and mail them to recipients.
5. Make it Easy
ISOs and customers want gift card and loyalty programs to be easy. Factor4 has distinguished itself by making it simple to set-up, manage and profit from our programs. We have perfected the system for switching to our platform so it's a seamless transition with no interruption to service. We run conversion reports and do test transactions to confirm that all old gift and loyalty cards have been correctly converted to our program. Lastly, we are known for our 5-star customer support and respond to all emails and phone calls quickly.
Factor4 is leading the gift card and loyalty industry by not only staying on top of the trends but also setting the trends. Contact us to learn how our programs will help you increase revenue, reduce attrition and seamlessly process transactions.
Follow us on Facebook, Twitter & LinkedIn for Gift & Loyalty tips. Visit: www.factor4gift.com to learn more.